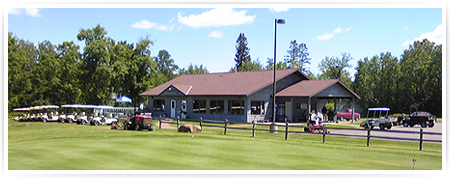 The Sandstone golf course would like to announce that we are taking all precautions to keep everyone safe during this time with the COVID-19 pandemic and are asking that everyone who wishes to golf, call for a tee time to allow us to space members out a distancing pace between groups. No more than four in a group. The flag sticks are in the cups, with a piece of foam at the bottom of the cup and are NOT to be removed when you putt. Your putt will not fall all the way to the bottom of the cup, but will go in the cup only dropping in about 1 1/2″ down. This will keep everyone from touching the cup sides or flag sticks. Only one person per cart, unless you are living in the same household. We are wiping off carts after each use-and of course all inside areas of contact. Thank you for your support and please remember to stay 6′ apart at all times. Thank you for your patience during this time.
Nestled in the northern outskirts of Sandstone, MN, lays a pristine 9 hole, 2,608 yard, par 34 golf course that offers any golfer challenging holes with luscious greens and spectacular fairways.
Aging oaks, maples and pine trees line the fairways, along with water hazards that make this course unique in the layout.
A beautiful clubhouse and patio await after golf, offering a pleasant variety of luncheon items which can be accompanied along with a selection of over 14 beer flavors, wine, alcohol and wine coolers. Our pro shop carries a wonderful array of women's and men's shoes, apparel, gloves, balls, hats and other golfing accessories.
The clubhouse seats up to 120 people and is available for rental space for any occasion: weddings, meetings, graduations, birthdays, class reunions, anniversaries, tournaments or holiday gatherings.
To make your tee time or reservation at the "Best Nine in Pine"-call Rose at: 320/245-0471 for your next scenic golf experience!